Community Safety and Health
Community Police Officer
Will Diamond is the local Community Police Officer for Strathyre.
Will has a page for local updates accessed through the top menu bar, select SERVICES / COMMUNITY POLICING
Website: Local Command Centre (Trossachs and Teith)
For Emergencies dial 999            For non-emergencies dial 101 
Local Health Advice
Doctor
Nearest Doctor & Health Centre  Health Centre Geisher Road Callander FK17 8LX Opening hours 08:30 to 6pm
There are Two Medical practices located together: Bracklin Practice tel: 01877 331001 and Leny Practice tel: 01877 331000
Nearest Hospitals:
Stirling Rd, Larbert,  FK5 4WR     Tel: 01324 566 000
Services Offered
Bone Injuries
Emergencies
Eye Injuries
Paediatrics (Child)
Walk-in
 X-ray
Full Accident And Emergency
Livilands Gate, Stirling,  FK8 2AU   Tel: 01786 434036
Minor Injuries Unit – which provides treatment for a wide range of common injuries such as sprains, cuts, burns and suspected broken bones
(open daily 9am – 9pm)
Trossachs Pharmacy
Health & Social Care Scotland advice pages
Rural Health Scottish Government Health and Social Care
Dentist

 171 Main Street Callander FK19 8BJ     Tel: 01877 330703
HOURS: Mon, Wed, Thur, Fri:  09:00 to 13:00  and 14:00 to 17:00.    Tuesdays: 13:00 to 17:00 then  18:00 to 21:00
Closed weekends
Entertaining Children & Safety
Strathyre is a natural playground for children with lots of forests and streams to explore around the village. We do however like to mention that we have a main Trunk Road running through the village and whilst it has a 30MPH limit, many drivers fail to observe this. We also have the winding river Balvaig running through the village and whilst this offers an attractive setting, the river does at times run deep and fast especially after prolonged rain. We would like to ask that visitors bear these facts in mind especially with younger children. Strathyre hosts a number of events in the village that can draw large crowds such as Music events, Walks, Hill races, Fireworks event and Christmas market. Please look after children during such events.
Nearest Veterinary Clinic –
Callander Veterinary Clinic opening times are:
Monday 8.30 – 6.30pm
Tuesday 8.30 – 4.30pm
Wednesday 8.30 – 6.30pm
Thursday 8.30 – 4.30pm
Friday 8.30 – 4.30pm
Saturday 2 – 4pm
Callander Practice: 
Riverside Veterinary Clinic, 1 Lagrannoch Industrial Estate,Geisher Road, Callander,FK17 8LX.
Tel: 01877 381213
Locate on Google Maps.
Walking Pets
There are some great areas to walk dogs around the village. Strathyre has many dog owners and you may meet a few during your visit. Please help us keep the village clean and tidy by using poop bags, which can be deposited in specific labelled dog waste bins which can be found around the village and dog walking areas. Most of our accommodation outlets are dog friendly as are our Pubs and Cafe. Please keep pets on leads.
Community Safety
Planning for emergencies
Safety Information for Visitors – Bugs and Things
Scotland is a safe country with very few things to worry about. However, our landscape away from the Cities, whilst beautiful to see, carries advice for those who like to venture off into the wilds, to our lochs and mountain areas. Our advice is, always be well prepared. Here are some things to consider for your personal safety. The Lochs and rivers in Scotland are quite deep and can be very cold even in summer. We do not recommend swimming in lochs or rivers due to the risks of severe cold leading to hypothermia. The current in some rivers can also be fast and with slippy river banks so care should be taken.
If walking off recognized pathways into our rugged landscape, please be aware that small insects can be found here. – things to watch out for, are ticks. These are small dark insects usually from the size of a lentil upwards to 4 or 5 times this size. They sometimes have a small hump on their back. These insects cling to your skin and usually need to be prized off with a pinch or by using tweezers or a tick extraction tool like a small fork – which are available in most chemist or outdoor shops. Tick bites (if ticks are removed fairly quickly) have a minor impact but if left for a while can cause limes disease which can be quite serious. Remember to check pets that can also pick up a tick especially in long grass, heather or fern covered areas. Ticks are prevalent near areas where sheep and Deer are found.
In the same grassy and heather covered hills, two types of snake can be found. A thin Green Grass snake is of no safety concern and is harmless. A stripped snake tan and brown /black in colour are of more concern these are adders and whilst rarely found, as they tend to keep well hidden away. If stood on or threatened they will defend themselves and can give a nasty bite: especially around ankles or hands or wrists if attempts are made grab them. Best to keep well clear. Adders don't attack unless threatened. If bitten, although the venom poses little danger to a healthy adult, the bite is painful and requires urgent medical attention. About 100 adder bites are reported in Britain each year, according to the NHS, with most happening during summer months. Symptoms of an adder bite: usually two small puncture wounds, and painful swelling can occur, some people refer to feeling faint or lightheaded. Small Children and the elderly are more at risk. We advise to always seek medical help as soon as possible. Try to remember the description and size of the snake.
Taking to the Hills – Staying Safe
A great Scottish activity is hill walking and mountain climbing. The view from the top is breathtaking but these environments must never be visited without appropriate clothing and making plans. Our climate for much of the year can change significantly and temperatures in a valley can be 20 or more degrees warmer than the top of a 1000 meter +mountain. In winter, overnight temperatures can plummet to minus 15 or colder in Highland glens. The last thing you would want is to get lost in such remote areas with a sudden change in weather with poor visibility. It is therefore vital on all such trips to take time to follow the recommendations below:
Never venture into the high mountains or hills alone or ill-equipped.
Always let folks at home or where you are staying, know where you are going and when you expect to return
Make sure you carry a fully charged Mobile phone
Carry an essential first Aid kit – think about how you will treat twisted/broken ankles cuts and sprains
Carry an Ordnance Survey Map
Carry a Compass
Regularly check your bearings to see where you are
Don't take unnecessary risks – if conditions worsen – turn back
Carry or wear appropriate outdoor clothing to cope with worsening conditions
Wear suitable footwear
Carry a torch
Always aim to be back down to safety well before dark
Strathyre Emergency Response Team
Strathyre has its own Strathyre Emergency Response Team made up from 20 volunteers in the village willing to respond to any major emergency situation arising in the village.
The team has a Social Media channel Click here to visit the Web page
Strathyre River Level Monitoring and Flood Early Warning System
This important link can be found at  www.timeview2.net
User Name:  SERTEAM      Password:   riverbalvaig
This will bring show latest river level data on a Graph. If you click on the small graph a larger version will open.
There are trigger points for E.mail alerts set at a rise of 900mm and a further alert put out at the 1.2M rise
River Balvaig graph serves the village of Strathyre and the Stronslaney system is awaiting landowner permission to be located upstream between Stonsalaney and Balquhidder bridge. This will measure the extent of the Loch Occasional rise over the course of the River Balvaig 2 miles upstream from Strathyre.
This is an example of the 4 week period back from 6th April 2019 at 07:30 am note the river reached a rise of 1.1 meters on 14th March 2019.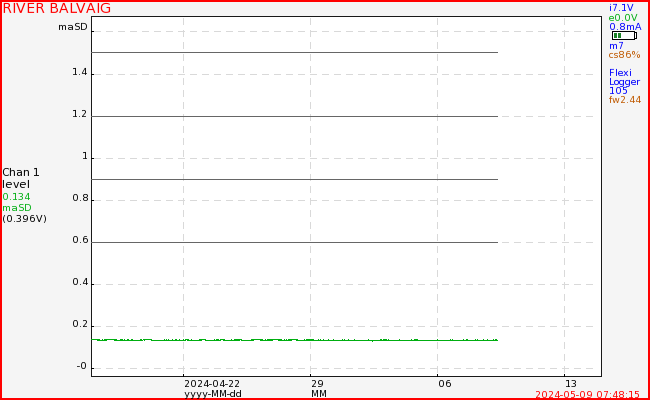 Disclaimer:
The above content is a direct link to the sources of helpful unaltered information for the benefit of users of the Smart Village application. Digital Scotland cannot be held liable for any incorrect information which is accepted in good faith as being accurate and may be found within the public domain.
On matters relating to personal health, we would always recommend contacting a doctor for any health concerns